In This particular post, We will Talk about Mobile EMMC Repair Work In mobile Repairing.
I will try to clear your Doubts regarding EMMC Repair. Also, we will see what are the requirements to start eMMC Repair in Mobile repairing. All the basic things you need to know before starting EMMC Repairing work.
Now Let's Start…
EMMC Repair Work Overview: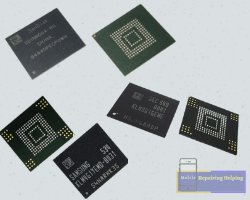 EMMC Chip (Embedded Multimedia Card) is the storage Controller chip format in smartphones. made up of NAND flash memory and a simple storage controller,
EMCP is MULTI-CHIP PACKAGE based eMMC, which means in one IC have two hardware that is not related to each other ( so it's called MULTI-CHIP ) one is eMMC hardware and the other is RAM hardware.
Inside eMMC there are controller and NAND, through this controller the whole of NAND can be accessed by the HOST.
In the phone PCB, the Phone Processor is the HOST, all of the processors have a right to access the eMMC through the controller.
For More Details About EMMC Read From ⇒ HERE.
Also, Read ⇒ THIS For RAM And ROM Internal memory to clear the Concept.
---
Difference Between Mobile Software Repair And EMMC Repair Work?
In mobile Software Repair Work, You work With USB Data Cable, But in EMMC Work You have to work On Direct EMMC.
There are two methods to work on EMMC To Access EMMC Partitions.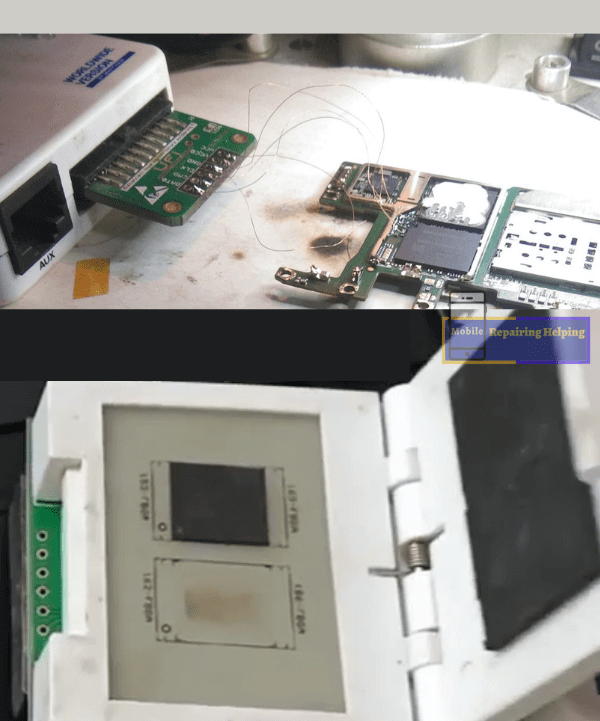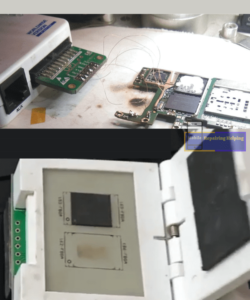 In ISP (In-System Programming) Method You have to do Pinouts (Jumpers) with Wires In mobile PCB  Points. Then you have to connect Those Points with the ISP Adapter.
ISP Pinouts points.
GND    – For Ground line

CLK      – For Clock signal line

CMD    – For Command signal line

DAT0   – For the Data transfer line

VCC     – Power Supply of NAND memory inside eMMC can be (2.8 – 3.3V)

VCCQ  –  Power of the internal eMMC controller can be (1.8 – 2.8V)
In BGA Socket (Ball grid array) For Direct eMMC work, you have to remove the eMMC from the PCB, then you have to Reball the eMMC, after that, you have to work by inserting the eMMC into the BGA socket.
In EMMC Work You have to Repair EMMC partitions, Which you can Not access Normally to Repair partitions Via USB Data Cable. For This, you need a Professional Box.
Android partitions:
Every Android handset out there has 6 important partitions, That store inside the NAND.
/Boot         

— 

(isn't viewable in Android)


/S

ystem    

—

(Is viewable in Android)

/Data (Userdata)

—

 (Is viewable in Android)



/Recovery

—

(isn't viewable in Android)



/Misc       

—

(isn't viewable in Android)

/Cache     

—

(Is viewable in Android)
There are many other partitions in Android devices.
To know More About Android Partitions In Details Read From ⇒ Source Android
NAND in the eMMC has 4 basic partitions:
BOOT 1 PARTITION

BOOT 2 PARTITION

RPMB PARTITION

USER AREA PARTITION
---
UFS Chip (Universal Flash Storage) is the next generation of Flash memory, UFS uses NAND flash. UFS Chip is the successor of eMMC Chip. UFS provides flash memory with high data transfer speed, high reliability, and low power consumption.
And nowadays Flagship phones and Mid-range phones are coming with UFS chips.
To know More  Details About it ⇒ Difference between eMMC and UFS interface types
---
Requirements For EMMC Repair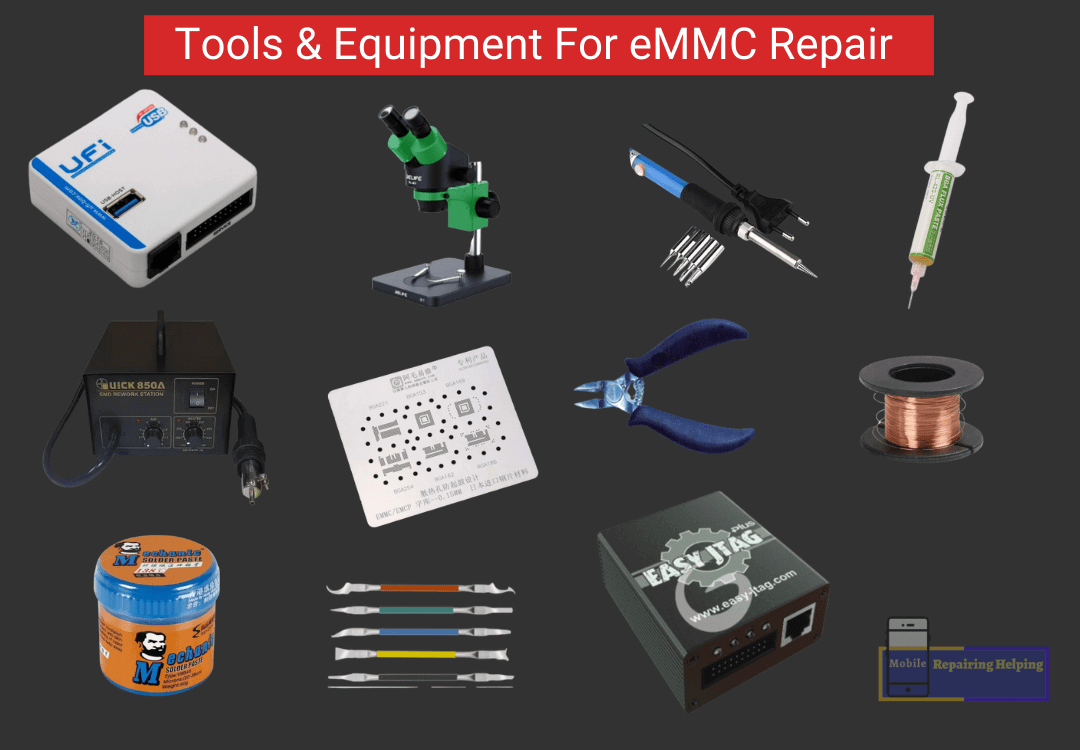 Equipment Requirements You'll Need to Get Started with the eMMC Repair work.
UFI Box 

MicroScope

Soldering iron

Hot Air Gun SMD Machine

Stencils

jumper Wire

Soldering Flux Paste 

IC Glue Cutting Tools

PCB Shield Cutter

Easy Jtag Box

Most

Importantly

You Will Need Good Hardware Skills And Software knowledge.
Moreover, you will need some other tools required in eMMC repairing work, which you will see in the eMMC Course.
Difference Between UFI Box And Easy JTag Box?
In the UFI Box, you can work Only on the EMMC IC, But in the Easy JTag Box, You can work On Both EMMC IC And UFS IC. 
As Compared To Easy JTag Box, UFI Box is Easy To Use in terms of User Interface.
Note: There are other boxes also available for eMMC work in the market. But UFI and Easy JTag are more useful As per the Current Market.
How to find out if the mobile has an EMMC or UFS chip?
you can Check Mobile specifications on the GSM Arena or Any other Website In the memory Section You can identify Mobile Has eMMc Or UFS Chip.
---
What Work Can We Do In UFI And Easy JTag Box?
Repair EMMC

Resize EMMC

Format EMMC

Read User Data

Read boot1

Read boot2

Read EXT CSD

Update firmware

EMMC Programming Reading Programming and Recovery

NAND Memory Reading and Writing

EMMC Health check

NAND Test
Also Much Other Work You can Do in UFI Box and Easy Jtag Box.
To know More About UFI Box And Easy Jtag Box you can visit their Website.
---
When Do We Need to Work On EMMC?
If EMMC is Consumed 90% reserved block

If phones boot partitions are Corrupt

If EMMC Damage

If Any Bad Sector in EMMC
Here I am sharing some problems and conditions of EMMC.
Generally, mobile phones are dead due to Three reasons.
(1) Hardware issue(2) Software problem(3) EMMC problem
If there is No Issue In hardware And Software in Dead Phone, In This Condition, you have to work on EMMC.
Phone Hang On logo- Phone Auto Restart (Boot Loop):
It could also be a hardware issue or software issue, but if you check that there is no hardware issue and after flashing the problem is not resolved, there is most likely an EMMC problem.
If you are not able to unlock the phone in any dongles, Tools then you have to unlock it with the ISP Pinout method. (Depends On Security)
Network Repair, Baseband, and IMEI Repair

:
If you are not able to Repair Network And IMEI in Any Dongle, and Tool, then in This Condition You need to use UFI Box And Easy JTag. (Depends On Security)
There are some other reasons also when we need to work on eMMC.
---
Who can do EMMC Repair work?
If you are interested in eMMC Repair work, If you can meet the above requirements then you can Definitely do eMMC Repair work.
Where can

I

learn the EMMC Course?
There are many institutes in the offline market for EMMC courses, you have to search for them yourself.
Do your own research before joining Any Institute.
Can I learn an Online EMMC Course?
Yes, 
There Are Many Paid/Free Courses Available On The Internet You can search About it on Youtube.
---
---
I hope You understand All the Above things About, EMMC Repair Work Overview In Mobile Repairing Which I mentioned above.
It's all above an overview You'll find more information about eMMC repair work in the eMMC course.
Feel free to write in the comment section below. If You Have Any Query Regarding This Topic,
For Next Post Follow ➡ Software Dongle Tools Buying Guide