In This particular post, We will Talk about Tips And Tricks  For Mobile Software Repairing Work. Here I will share some Of the Tips And tricks Which You can Apply in Mobile Software Repairing.
Now Let's Start…
Tips And Tricks-For Mobile Software:
Tips

:
#

1

.

 

Don't Depend On AnyOne
If you are a beginner and you will find any problem related to Mobile Software for which you don't know the solution, Don't worry you will find a solution on the internet, just search your problem on Google or YouTube, you will get a solution for sure.
There Are Tons Of Videos Available On YouTube For Mobile Software Repairing Just You Have To Search.
I Mean To Say You Be A Self Problem Solver And solution-oriented person.
---
#

2

.

What to do first if you get a Mobile for Software Repair?
♦ The first thing identify Mobile Model
♦ After Identify Model Then Identify CPU  
Then whatever the problem is in the mobile, you should work according to the CPU.
Because if you know about CPU first then you can work easily.
---
#

3.

Data cable
Always Use A good Quality Data cable For Mobile Software Repairing,
Because you are doing mobile software repair work, that's why you should have a good quality data transfer cable.
---
#

4. 

Use Device Manager
Always Use Device Manager When Performing Software Repair Work.
Because this will let you know whether the mobile is connected to the PC or not.
---
#

5. Take ID Proof
If you are unlocking the phone, take any ID proof or Mobile Bill Xerox copy, from the customer for security.
because it can also be a stolen phone.
---
#

6

.

Don't Waste Your Time On Fake Tools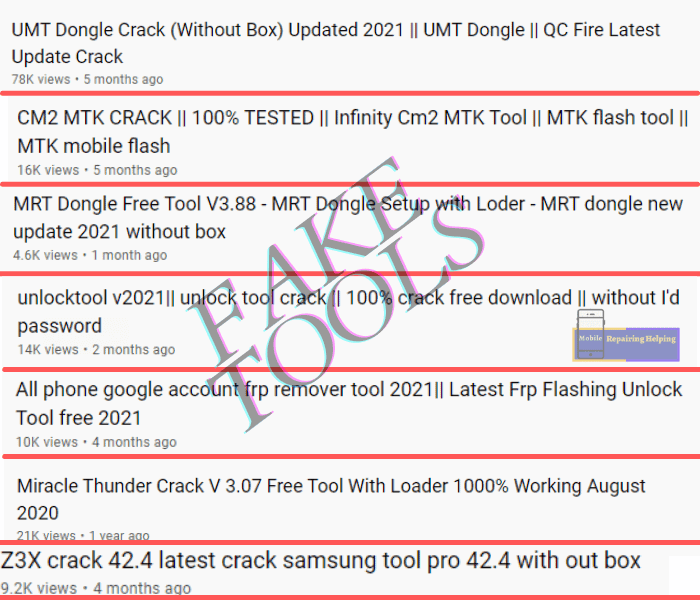 You will see that there are many fake tools available on the internet, but not all crack tools are genuine, you will get a virus and malware on that setup. Which can harm your PC.
I just want to make you aware. So don't waste your time on fake tools and download tools only from Trusted sources.
---
#

7

.

 Satisfy your customer
Complete your work as per given time and give it to your customers by repairing their mobile phone on time. because Customer is Always First.
When you repair a phone, make sure you don't delete data unless necessary. Because in some cases data is more important than the mobile phone.
If you open the mobile phone for any reason, make sure you replace all the screws in their respective slots, And remember that mobile phones that don't have screws are not a good sign.
The Customer is Not Always Right. But they Are Always First, And Honesty is the best policy.
---
#

8. Give Mobile Dead Risk
If you get A hang-on Logo, And an Auto-restart phone in your Mobile Shop then Give Dead Risk to The Customer.
Because it could be an eMMC issue. So it's better to play safe before Flashing the phone.
---
#

9. Keep Update And Upgrade Yourself
As I said earlier, that Technologies are changing day by day. So you have to keep Yourself updated and keep upgrading yourself.
"The best investment you can make is an investment in yourself. The more you learn, the more you'll earn." – Warren Buffett
Now the question is,
How can you keep yourself updated or improve yourself to make the mobile software work?
♦ You can learn New Things On the Internet From Websites, YouTube, Forums to Update Yourself, And you can learn new things from the experiences of others.
Here Is I am Sharing Some Websites where You can learn more About Mobile Software Repair,
Best Websites To Learn Mobile Software Repairing Online For Free:
Also known as GSM-Forum, one of the most complete forums for Mobile phone repair technicians. It is the oldest mobile phone repair forum with members from all over the world.
Gsm Developers is Also the Most Trusted Forum For mobile phone repair technicians. Where you can know About New updates, Software, Tools And Much More.
XDA Developers is a mobile software development community. also known simply as XDA,
XDA Developers is another Android platform. Here you will find the most effective thread and posts related to Android hacks, tricks, or rooting methods.
Mart view-forum Another great forum for you to visit, Where you can know more About sim lock, IMEI Repair, firmware, upgrade, FRP reset, phone unbrick, solution, boot repair, all other Gsm related problems.
The Hovatek Forum is a free Tech Support Forum. Where you can get Solutions for phones, laptops, Desktop PC, etc.
Create an account on the Above forums to avail all the benefits of becoming a member of the above forums. Keep username and password the same on all forums to avoid stressing your mind.
Also, keep visiting our website MobileRepairingHelping.com where you can learn about mobile software repairing problems and their solutions,
Keep visiting us to get updates and solutions.
---
#

10. Help others
If you are in any Mobile Repairing Groups then you will see that many people ask for the solution, if you know the solution then give the solution to that person.
If you can't help others, never expect others.
---
Tricks

:
#

1

. How to Prepare the System for Mobile Software Repair:
Just Follow These below steps To Prepare the system.
Additional Tools are required which you can Download from Download Section.
(If Already Download Then Skip)
---
#

2

. Useful Software
Here I am sharing some Useful and Helpful Software that you can use to save your time.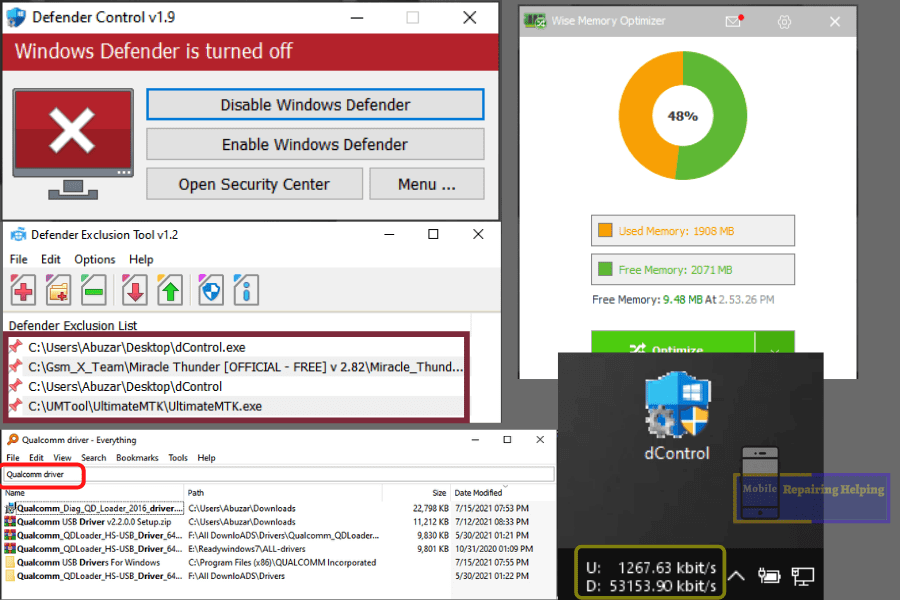 Defender Control – Download from

⇒

Here
This Tool Will Save Your Time Because Some Time Windows Defender (Antivirus) Does Problems.
And sometimes you have to disable antivirus to run the tool. (Get More Details About  the Tool On Download Page) 
Defender Exclusion Tool

–

Download from

⇒

Here
This tool helps the user control his security and privacy settings. You can add any trusted file, file type, folder, or process to the exclusions list.
Usually, sometimes Windows Defender deletes EXE files when you run the tool. You can add those files to this tool just by Drag and Drop. (Get More Details About  the Tool On Download Page) 
Everything

 

–

Download from

⇒ Here
Everything is a system utility software that can help you find any file or folder stored on your Windows system.
This makes searching for files a lot easier, as you don't have to particularly remember the name of the document you wish to find. (Get More Details About  the Tool On Download Page) 
Wise Memory Optimizer

 

–

Download from

⇒

Here
Most PC users have known and unknown applications running in the background that take up your computer's physical memory and thereby affect its performance. Wise Memory Optimizer helps you optimize physical memory to boost PC performance. (Get More Details About  the Tool On Download Page) 
Use only if your system configuration is low. 
NetSpeedMonitor

–

Download from

⇒

Here
Net Speed Monitor is a network monitoring suspension desktop software, It can display the current network speed, and can test internet speed. If you have ever been interested in your uploading and downloading speeds, the program known as Netspeed Monitor can help you to figure this out. (Get More Details About  the Tool On Download Page) 
---
#

3. Always Take System Backup
Yes, Maybe You will get Windows Error, in the future, So that Your data will Lose,
For your Data Safety(Drivers, Tools, File, etc) you must take System Backup After Your Window Ready.
If you know how to install Windows with bootable Pendrive then that's well and good for you.
Here I am Talking About Windows backup. It Will Take Less Time Than Windows Installation. For Restoring Windows Backup.
Here are Some methods To Take System Backup if In case You don't know.
How to Backup Windows OS | Full Recovery & Restore Setup

⇒

(Video Hindi)
Macrium Reflect Tutorial | Backup Windows | Disk | Partition ⇒ (Video Hindi)
Follow any one of the above methods which seems easier for you to take a system backup.
---
---
I hope you have understood all the above things about Tips And Tricks-For Mobile Software repairing that I have mentioned above.
This was the last Post Of This Mobile Software Course. 
If you are following this course from the very beginning then congratulations your learning skills are very good.
Pro Tips: Whatever others say but the Fact is that you cannot learn mobile software repairing in 20 to 60 days.
it will take time to learn, and you will Definitely Learn because Good Things Take Time.
You can learn things Only by Doing your Practical work, your experience, and your Mistakes.
You can Follow this Mobile Software Course For Practical work. Because all the information in this course is provided by genuine and authentic sources. Also From My learnings.
This software course is enough for you to start mobile software repairing work.
But It's Not the end…
Mobile software repairing is an over time learning process and field… you can't learn it overnight completely.
You have to learn From other Sources too. In this course, I shared With you the concepts of mobile software Repair and the Foundation So that You get An Idea of how things work.
---
I will update this Course in the future as per updates,
if you learned something valuable from this mobile software course in the field of Mobile Repairing,
Then Please comment if you have any suggestions or feedback regarding this mobile software course. Hopefully, you have learned something you didn't know yet.
Share this with others if you think this software course will Also help others.
Also, Like Our Facebook page to get future Updates ⇒  MobileRepairingHelping