In this particular post, we will Talk about Z3X Box, How Can You Install Z3X. And How To Use Z3X Box Samsung tool Pro, Also We will See About Files Which Used For Samsung Devices.
Here I will share some features So that You can use easily other Features,
Now Let's Start…
As I Already Shared With You About Z3X In the mobile software repair tools Post, I hope You know about it,
Z3X Samsung tool Pro Box Installation Guide
Requirements For Z3X Box Installation
Or Download the Latest Z3X Samsung tool pro setup From HERE
Download Z3X Box Driver, And Setup From Above Links, Install Z3X driver. Run the Setup.
The Above Requirements Only For Those People Who Have a Z3X Box.
---
Here I Am Using Z3X Samsung Tool Pro V29.5 Crack Without Box, So That You Can Also Use it For Learning Purposes (Free Samsung Tool Pro V29.5 Version)No need for a box.
Requirements for Samsung Tool Pro V29.5
Samsung Tool Pro V29.5 —    Mega ⇔ Mediafire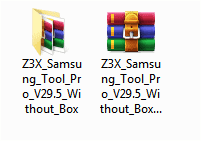 If you Don't Know how to crack Z3X, then You can watch Any Video On YouTube So that You can Understand it Easily.
Or You Can Watch This ⇒ Video to Use Samsung Tool Pro V29.5.
(Make Sure Antivirus is OFF while Using This Crack)
Run The Setup Run As Administrator.
How To Use Z3X Box?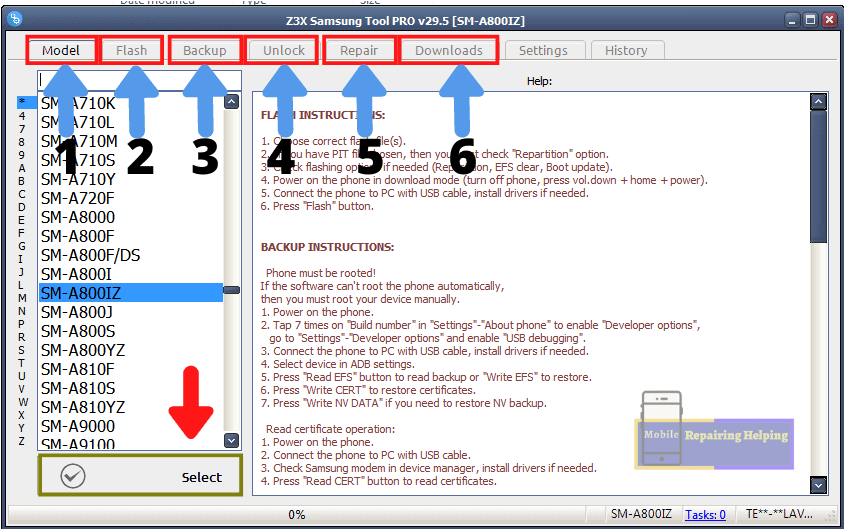 ♦ In This Option First, You Have to Select a Model to perform Any Action.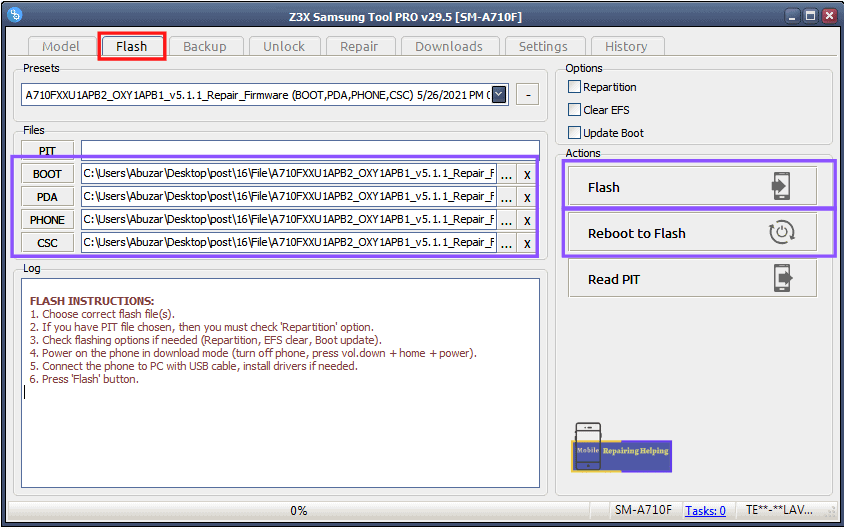 In This option, you can Flash Samsung Mobiles In Download Mode,
Download Flash File According to your Model As I Already Share With You Samsung Flashing Guide in Odin Tool, here you can flash with Similar Process.
Boot ⇒ Here You have to Select BL File
PDA ⇒ Here you have to Select AP File
Phone ⇒  Here You have to Select CP File
SCS ⇒ Here You To Select  CSC, Or HOME CSC File 
If You Have A Single Flash File Then Flash In PDA.
♦ After Select File, Put the Phone On Download mode.
♦ You Can Use Reboot To Flash Button, Just Simple Connect the phone via PC in On condition,
And Click On Reboot To Flash.
♦ Now Click  On the Flash Button.
(Read Flash Instruction In Log Section)
What is a Pit File?
PIT files are Partition Information Table files
The .pit file extension is used for a firmware file format developed by Samsung. These .pit files are usually found in Samsung mobile phones that run the Android operating system. In this case, PIT stands for Partition Information File,
This is why it's best to leave these PIT files alone,
(Source) file.org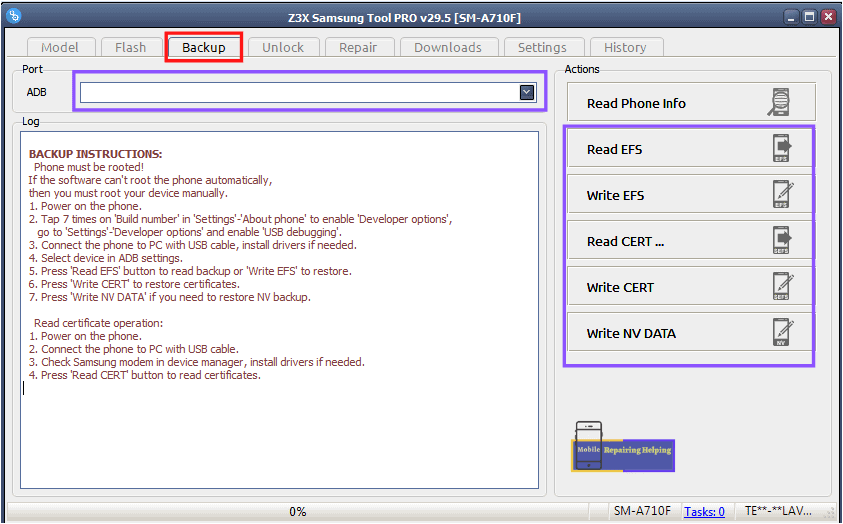 In this option, you Can Backup Files, Read And Write, But Before Taking Any Action on these Files, First You need to understand About These Files.
EFS FILE Means, Embedded File System Or Encrypted File System
EFS is a Hidden File Folder, Secure And Protected File Folder Found in All Samsung Android Phones.
IF EFS Folder Are Damage in your Mobile then You will face these types of errors,
Null IMEI Number, No Mac Address, No MEID Number, No Signal OF WIFI, NO Signal OF Bluetooth,
To repair these Types OF issues you can Write an EFS File, you must Read EFS Backup before writing. 
Each Samsung Mobile has a Different EFS File, To Download EFS FIle Search On Google According to your Model.
These are certificates that might be signed by using Samsung's database. These are generally used for IMEI numbers on phones. If the IMEI  no longer fits the certificates with the Samsung database, then the phone will no longer be allowed a mobile connection for a sim card.
Cert File Use For Repairing,
Unlock Mobile Phone Network, Network Fix Problem, Service Issue, mobile Network Not Available, Not Register On Network, Emergency Call Only issue,
How to Verify Cert File Ok or Not?
Go To Service Mode by Opening Diler And Dial *#0011#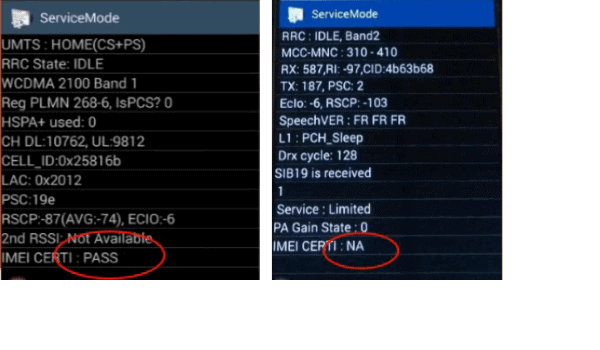 IF Status Show IMEI Cert Pass And You Still Face Any Above Issue Then maybe There Is Hardware Issue,
IF Status Show IMEI Cert NA Then You Have To Repair It,
To repair these Types Of issues you can Write a Cert File, you must Read CERT Backup before writing. 
Nv Data (Nonvolatile) is hidden Partition memory that contains all the data Information such as Wi-Fi Bluetooth MAC Address, Serial number, IMEI number of the phone,
If you get Checking  NV data error While Writing EFS OR CERT File then you have to flash NV dataFile,
Note:- All the Above Backup and Read-write processes you can do on a Rooted Device, In ADB mode As I Already Share With you About Root And Adb in Important Things In Mobile Software Repairing  Post.
Tip:-if You get Any of the Above issues, then before Apply Any Above steps, First Try to Do Flashing And check, If the problem does not Solve After Flashing, then Follow the Above process. Also, Follow Log Instructions.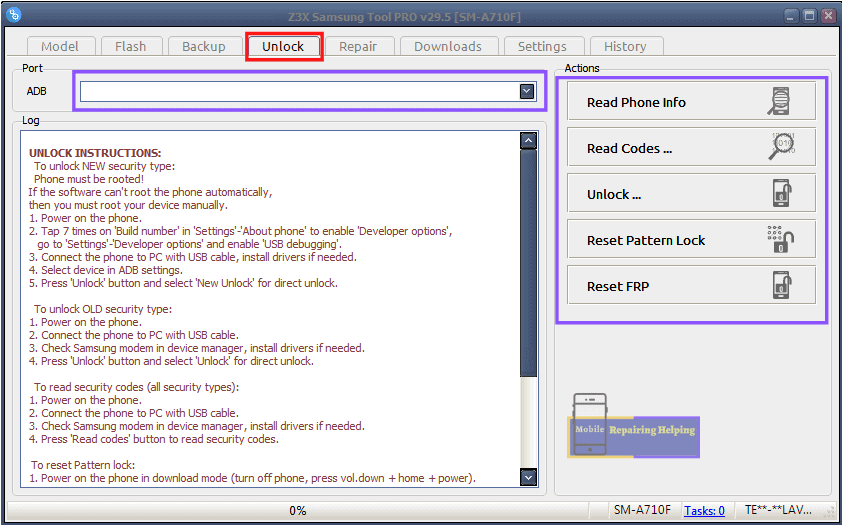 In this Option, you can read Phone Information, like Phone Model no, File version, IMEI Etc.
This option is generally used for Country unlock, Network unlock.
For the latest Security phone unlocking, you need to buy Credits, And Also this tab does not Work in the crack Version because this Works via Server.
Reset Pattern Lock And Reset FRP
to use this option first you need to enable ADB For Pattern unlock And Reset FRP, you can search on google for Adb Enable File,
It's Better to  Wipe data from Recovery Mode For Reset Pattern, For FRP We Will See in Samsung FRP Bypass Post.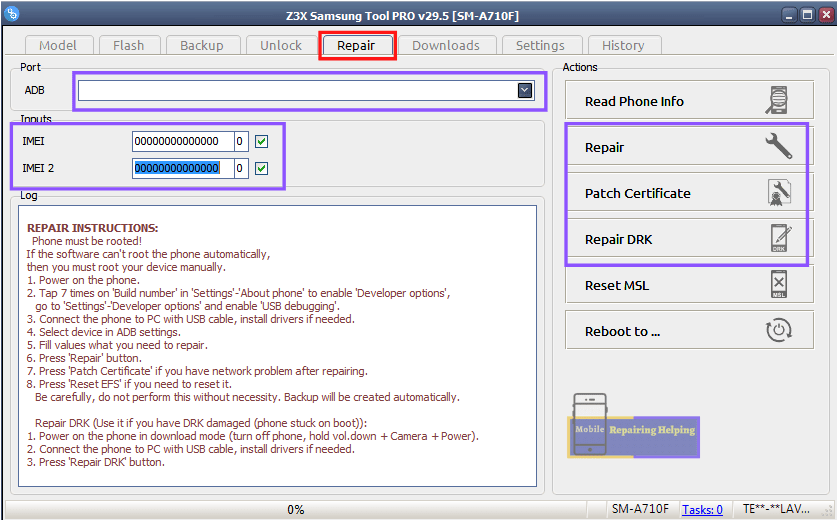 In This option, you can Repair the Original Mobile IMEI ON a Rooted Device In ADB Mode.
You can use this option After Repair IMEI or After Write CERT File. or if you have a network problem after repairing.
You can Use this Option For DRK Fix, You can See this issue while you Switch On the Phone, the Error Will Show Device Does not have DRK please Install DRK first
Note:- You can't Fix All Samsung DRK issues in this version. If you face a DRK problem You need To flash DRK a File, Just Search On Google, and you can see the solution on Youtube According to your model.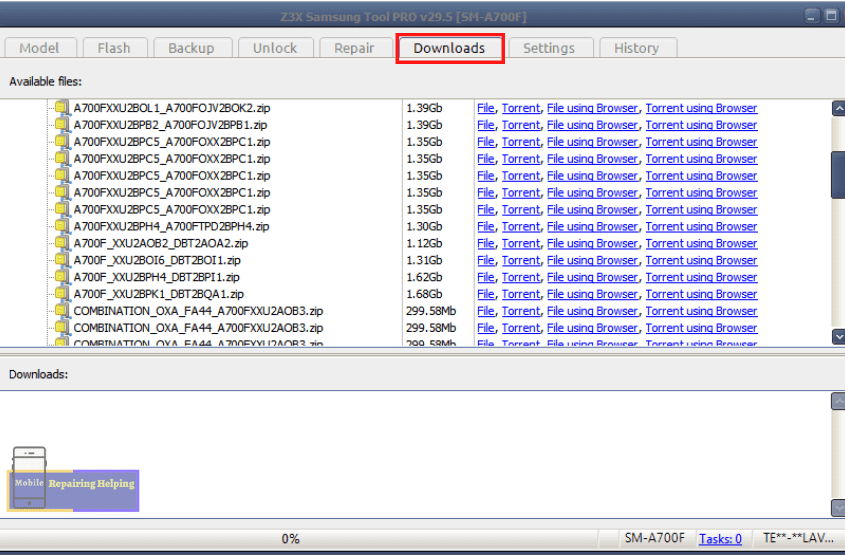 From this option, You can Download Combination files, Firmware of Samsung Mobile.
This Tab Will does not Work on the Crack Version For Downloads,
Also, you can use Z3X Shell Which I already Share Above For firmware Download If you have a Z3X box.
What Is a

Combination File

?
Read More About Samsung Combination File, From ⇒ Here  (samsungcombination.com)
---
Where to Download Samsung Root Files?
As You know Above why rooted Device Used For. So that You can Download Samsung Root File From Below Website. or Follow Their instructions.
Also, there are Many methods Available on the Internet for rooting, just search According to your Model.
---
---
Tip: Watch Any Z3X tutorial on Youtube to better understand, OR Explore.
Note: You Are Using Crack Version, So maybe You can Face issues, Or you can See Bugs, You can Use Selected Models Only. For Work On the newest Devices, You have to buy a Z3X box.
I hope You understand All the Above things About How To Use Z3X Box Samsung tool Pro, Which I mentioned above,
Feel free to write in the comment section below. If You Have Any Query Regarding This Topic
For Next Post ➡  Samsung FRP Bypass Guide